This is an archived article and the information in the article may be outdated. Please look at the time stamp on the story to see when it was last updated.
Which kit for getting started crocheting is best?
If you've ever tried your hand at knitting and want to add a new skill into the mix, crocheting is a great way to expand your hobby. You can crochet hats and blankets for yourself, make homemade gifts for friends and family, or create a side hustle and sell items online.
Watching an expert at work can make crocheting look a little intimidating. But with the right starter kit at your side, you'll soon be working your way up to more complex projects.
What is crocheting?
Crocheting is similar to knitting because it involves knotting threads of wool or yarn together to make clothing or items such as sweatshirts and blankets. But rather than using needles, as you would in knitting, crochet uses a single hook.
First, you create a slip-knot loop on the crochet hook. Then you use that first loop to pull the yarn through and create a chain of loops. From there, you can either expand this chain into many rows or join it back up to the beginning of the row and create rounds that spread outward in a circular pattern.
You can use crochet stitches to attach two pieces of crochet together or move into different patterns as you create your piece.
Most people use patterns to guide their crocheting, but advanced patterns can be difficult to master. Beginner crochet kits let you get familiar with the basics and gradually increase your skill level as you work.
What's included in a crochet starter kit?
Most crochet starter kits contain everything a beginner needs to get started, including:
Crochet hooks
Yarn
Stitch markers and holders
Row counter
Weaving needles
Scissors or thread cutter
If you're a total beginner, you might also want to look out for kits that include a:
Crochet pattern book
Detailed how-to guide
Storage bag
What to consider before buying a crochet starter kit
Experience level: If you are brand new to crocheting, you'll want a kit that provides everything you'll need. But crocheting can get complicated, so beginners may also want to check if any step-by-step instruction booklets and simple patterns are included, too.
Existing gear: If you already have some crochet equipment, take a look at what is included in starter kits. You may be able to spend less by avoiding extensive kits that have lots of tools you don't need to re-purchase. Most come with yarn, but if you already have some or you're picky about quality, you might want a kit that only includes needles, hooks and other tools.
Yarn colors: The yarn included with crochet starter kits tends to come in a good variety of colors. But if you already have color schemes in mind for your crochet pieces, make sure you choose a kit with the yarn colors you need.
Intended use: You might be taking up crocheting with a specific item in mind for your first piece. If that's the case, look for a crochet starter kit with a pattern included for that creation.
9 best crochet starter kits to buy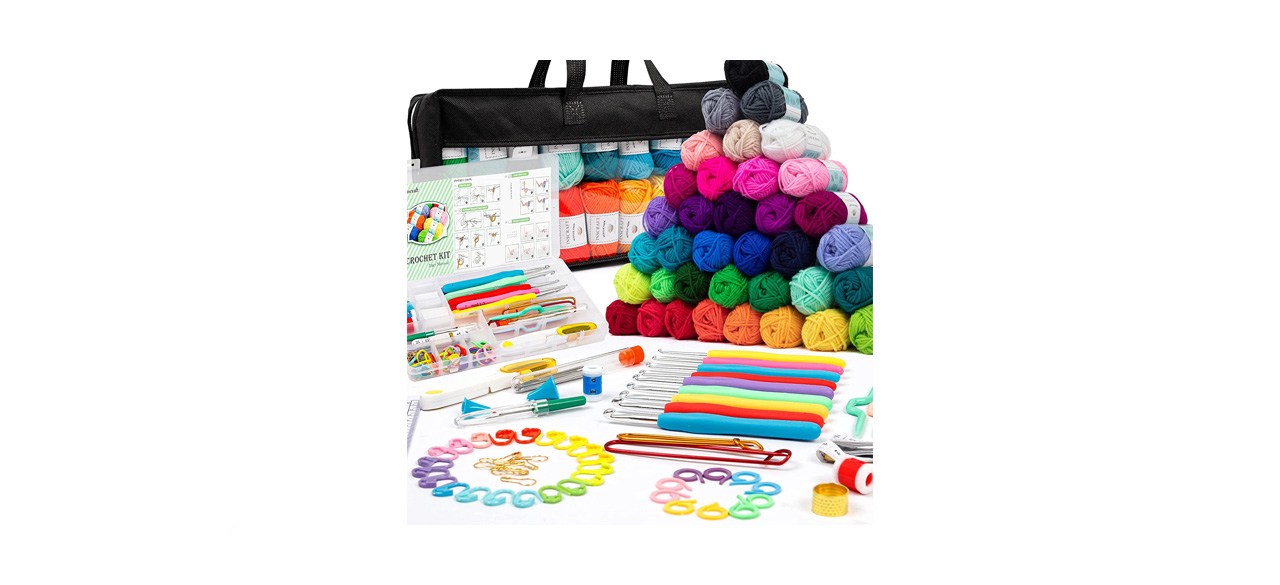 Inscraft Beginner Crochet and Knitting Start Kit
With an extensive 113 pieces, this kit contains everything you need for getting started with crocheting, whether you're a beginner or picking the hobby back up again after a break. It comes with all the yarn and equipment you need, plus a large carrier bag to store everything.
Sold by Amazon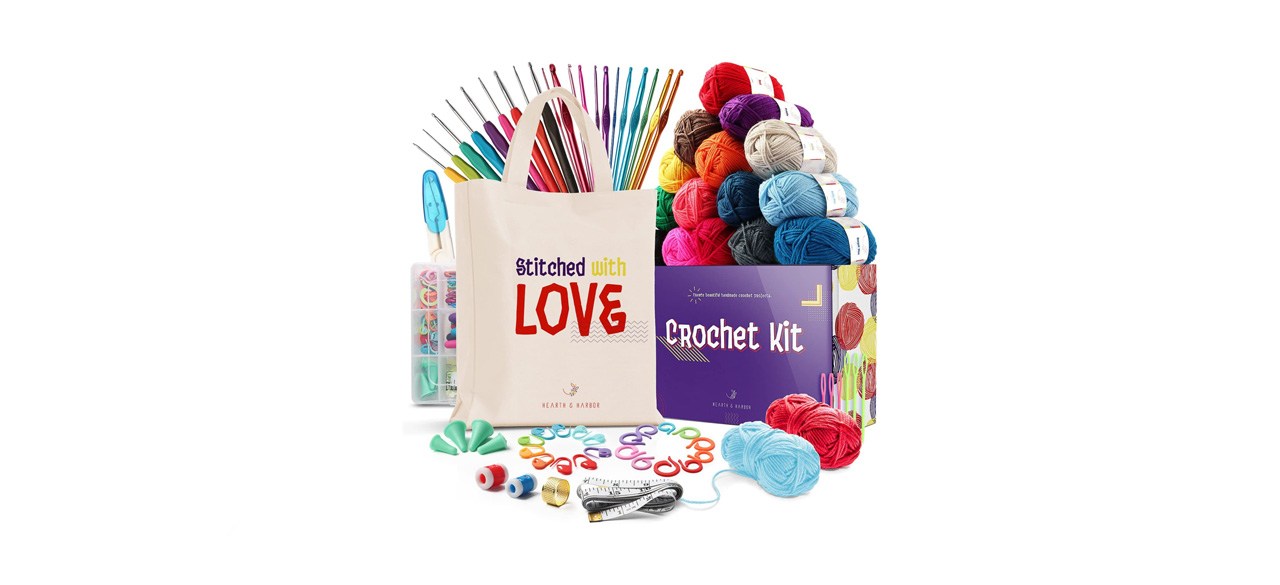 Hearth and Harbor Premium Crochet Kit and Yarn Set
This 73-piece kit comes with crochet hooks and yarn, and also includes a premium bundle of yarn balls, needles and accessories, making it a top starter kit for adults or kids. It also comes with a tote bag perfect for storage and travel and has a sectional container kit to store your tools.
Sold by Amazon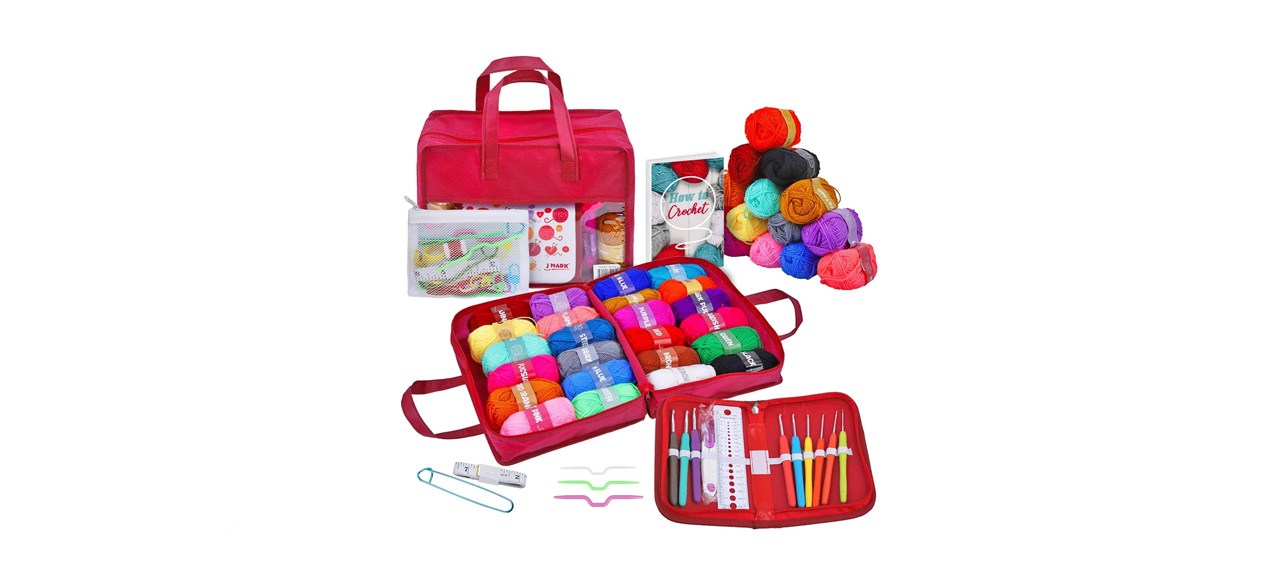 J Mark Premium Crochet Kit for Beginners
Specifically for beginners, this comes with an extensive amount of equipment and 1,320 yards of acrylic crochet yarn balls. It also has crochet hooks, needles and an instruction book to help you kick-start your crochet journey.
Sold by Amazon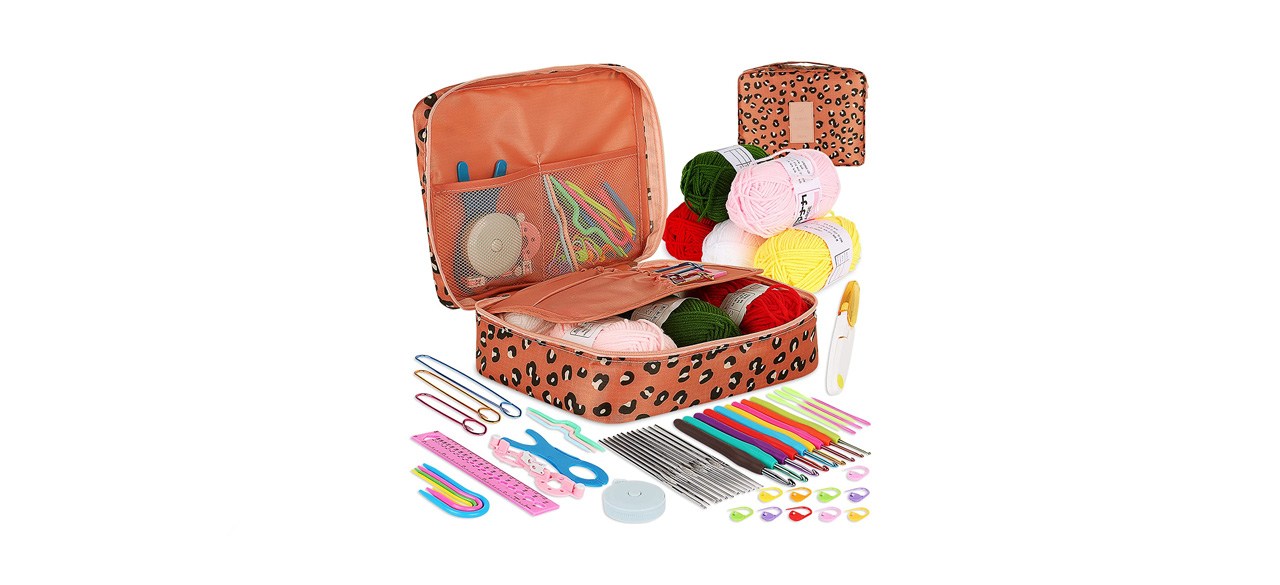 Coopay Crochet Kit for Beginners
This 58-piece portable set comes with ergonomic hooks and everything you need to make your first crochet design. It also comes with five yarn colors and a zip storage container in a stylish leopard print design.
Sold by Amazon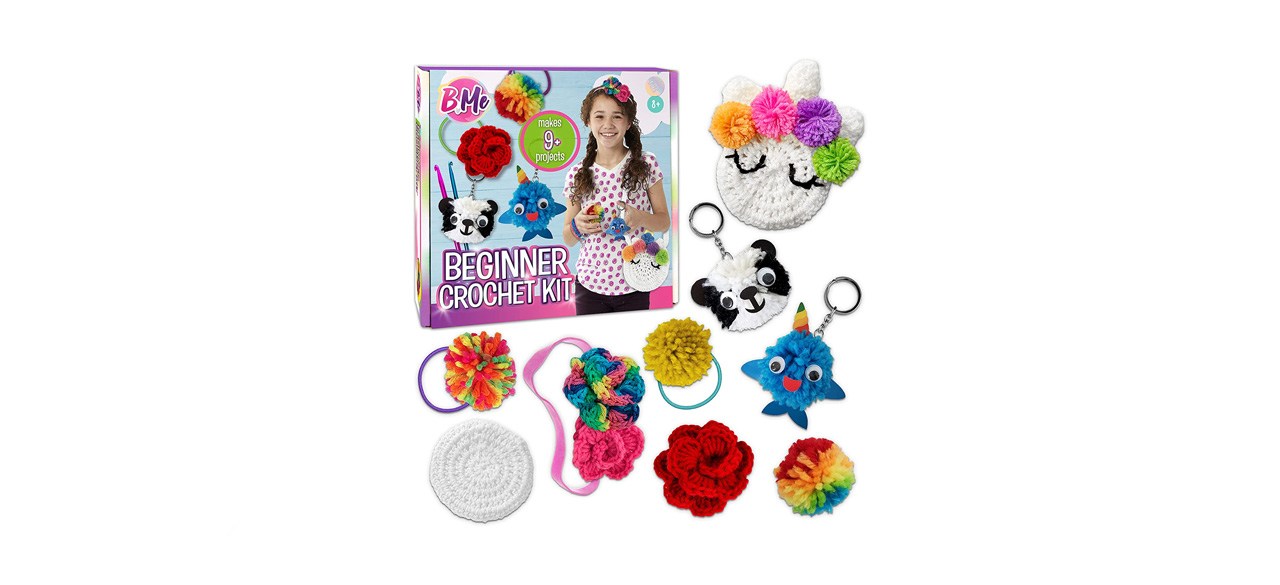 Creative Kids All-in-One DIY Crochet Kit for Beginners
This is perfect for crochet novices, kids and teens, with a step-by-step instruction booklet and video to help you on your way. Including two crochet hook sizes, it helps raw beginners make purses, key rings and other simple designs.
Sold by Amazon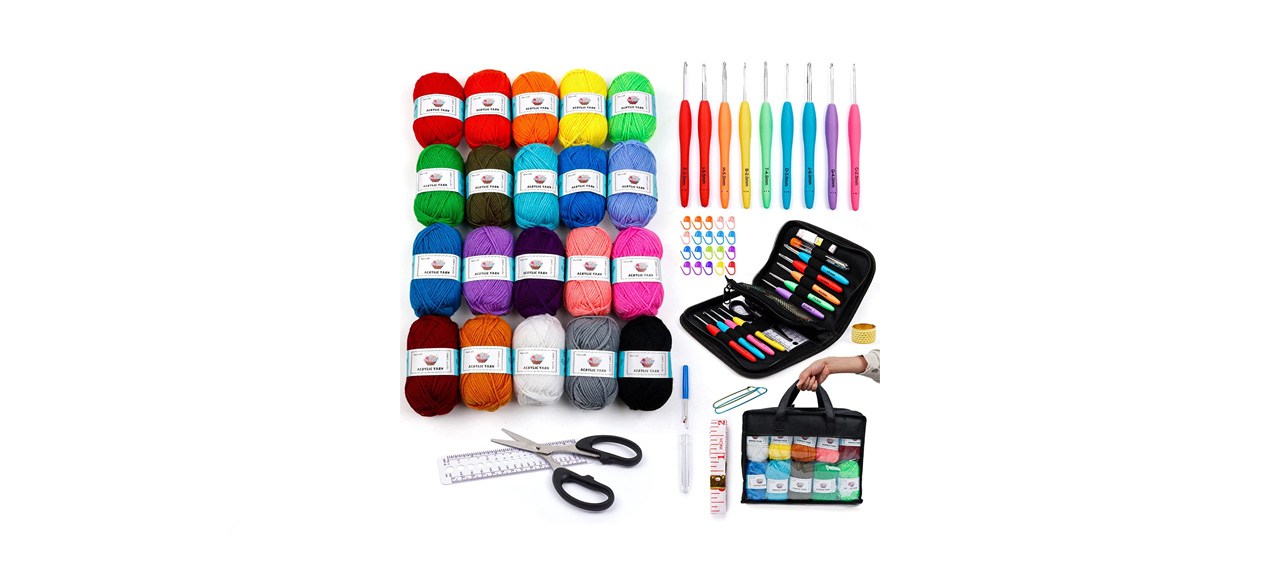 Inscraft Premium Bundle Crochet Starter Pack
This set is perfect for everyone from beginners to more experienced crocheters. It includes 20 large acrylic yarn skeins and 105 tools to help you make some exciting designs. Novices can still use this set, which comes with all the needles, accessories and hooks you'll ever need.
Sold by Amazon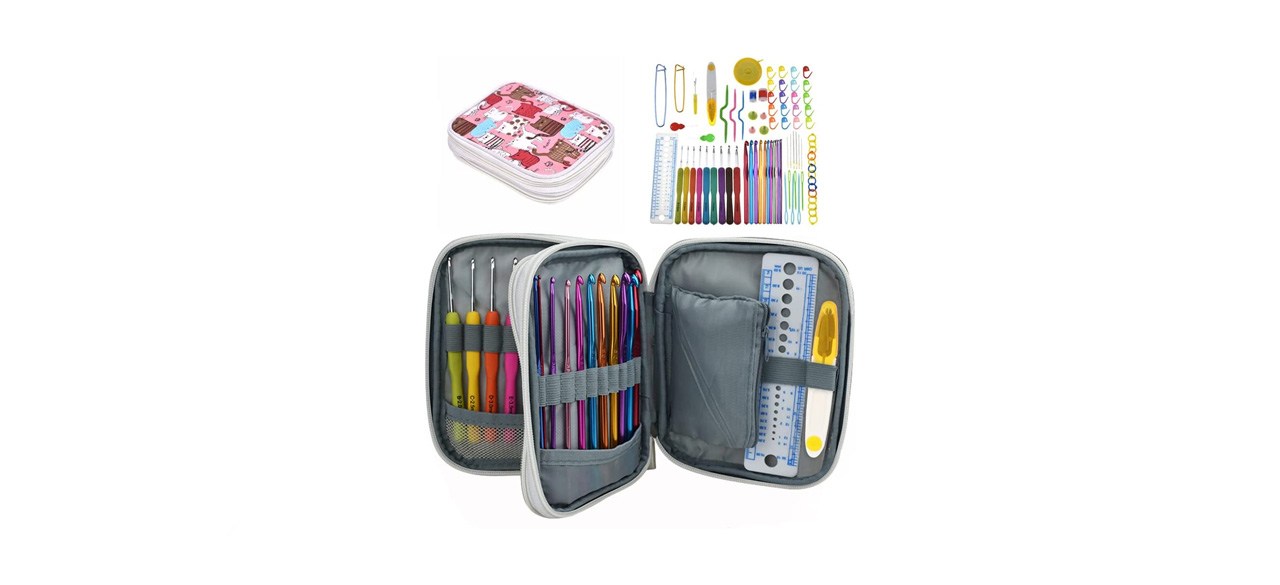 Katech Beginner and Experienced Crochet Kit
This works for both experienced crochet lovers and newcomers and comes with a small, professional-style crochet storage kit bag. The hooks are made from aluminum alloy material, making them durable.
Sold by Amazon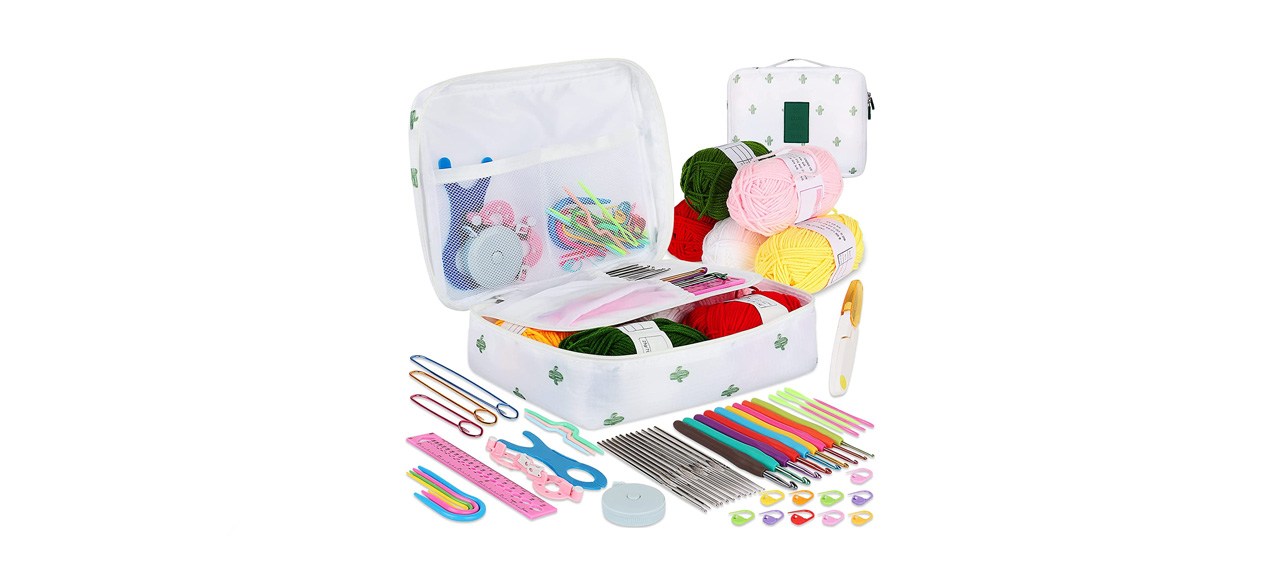 Coopay Crochet Yarn and Accessories Kit
Complete with five kinds of crochet hooks and knitting needles, plus five skeins of yarn, this 58-piece crochet set is excellent for beginners. It's portable, can be used to store yarn, and has two small pockets to store your crochet materials.
Sold by Amazon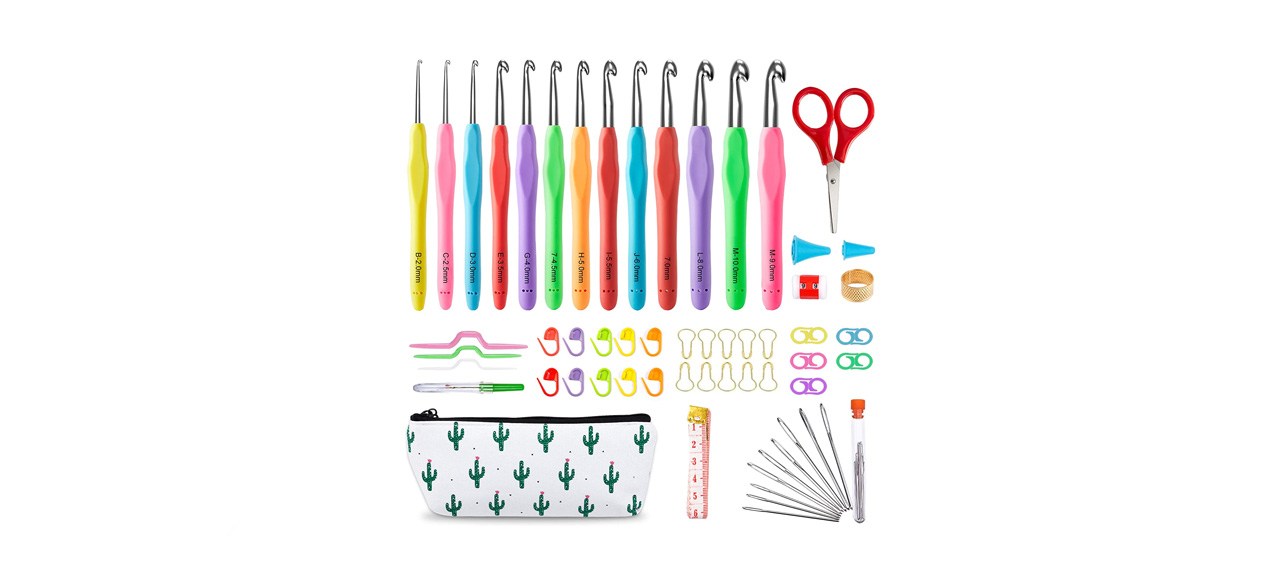 Inscraft Ergonomic Crochet Starter Kit
This set is right for crochet lovers or beginners who struggle with hand mobility, given that it comes with ergonomic soft-grip crochet hook handles and yarn knitting needles. The sturdy hooks make even the most challenging design a smoother experience.
Sold by Amazon
Want to shop the best products at the best prices? Check out Daily Deals from BestReviews.
Sign up here to receive the BestReviews weekly newsletter for useful advice on new products and noteworthy deals.
Lauren Farrell writes for BestReviews. BestReviews has helped millions of consumers simplify their purchasing decisions, saving them time and money.
Copyright 2023 BestReviews, a Nexstar company. All rights reserved.