This is an archived article and the information in the article may be outdated. Please look at the time stamp on the story to see when it was last updated.
Wearable blankets are an excellent solution if you want to stay cozy in winter, and even in cooler spring weather, and you can easily wear one over your pajamas or loungewear. They also make wonderful gifts and are available in a wide variety of styles to match everyone's taste.
They come in long-sleeved pullovers, cloaks with snaps at the top or open-back designs you can drape over your body while lounging on the couch. You can get them in knee- or full-length models with pockets, hooded styles or designs shaped like adorable animals.
In this article: Angelhood Wearable Blanket With Hoodie, Snuggie Sherpa Wearable Blanket and Happy Fuel Sloth Wearable Hooded Blanket for Adults
What is a wearable blanket?
At the most basic level, wearable blankets are blankets with added sleeves for your arms. They typically have a silky fleece outer material paired with an ultra-soft sherpa lining. While they're not the most fashionable items, the trend evolved into an at-home staple because they're a brilliant way to stay comfortable and warm while lounging around the house.
They're so popular, manufacturers have expanded on the original designs with elevated features. Top add-ons include an extra-large kangaroo pocket in the front, big enough to tote around your cat or small dog; a hood to keep your head warm; and elegant or fun patterns to match your style.
Styles of wearable blankets
Wearable blankets have 12 possible features. Many styles combine several of them.
Knee-length: This is ideal if you wish to move around without your blanket dragging on the ground.
Shin-length: This strikes an excellent balance between long and short styles, but it's a bit less common.
Full-length: This is great if you want the benefits of wearing a long, draping blanket.
Hooded: This keeps heat from escaping from the top of your head. Even if you keep the hood down, the added material can help the back of your neck stay warm.
Mock neck: This reaches the mid-point of your neck with a loose, fuzzy collar.
Sleeveless: This is excellent if you want to wear your blanket without sleeves getting in the way.
Long-sleeved without cuffs: These have a loose design that drapes around your arms and wrists.
Long-sleeved with cuffs: These taper at the wrists with fitted, elastic cuffs.
Cloak: This drapes over your shoulders with an open front and stays put with a few top buttons or snaps.
Pullover: This encases your body without openings that might let cold air in.
Zip-up: This joins each half of the wearable blanket with a zipper.
Open-back: This has a solid front with sleeves and an open back.
Best add-ons for wearable blankets
The best wearable blankets come with extras that increase your comfort. There are three standouts.
Pockets: You can get blankets that keep your hands warm with space for items such as a remote control and your phone, or larger ones that can hold a small animal.
Patterns or solid colors: These come in clean, classic hues or with designs such as tie-dye, cute animals or cheerful buffalo prints.
Characters: These fun designs have hoods with animal features, such as a koala bear, llama or sloth, and some even come with matching gloves.
What are the best wearable blankets to buy?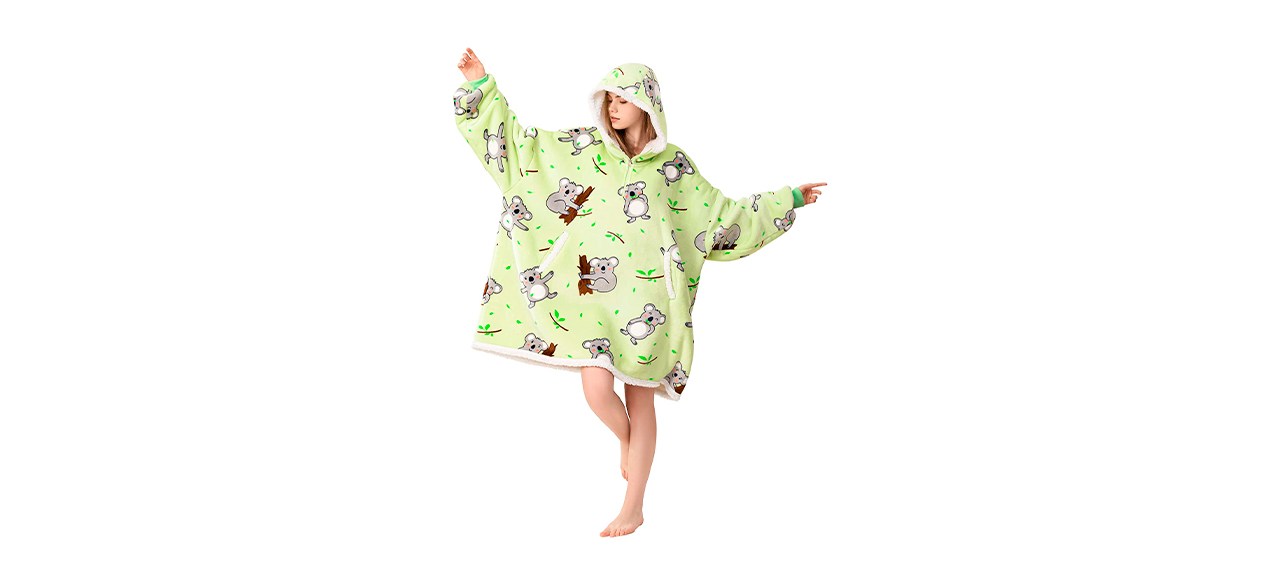 Angelhood Wearable Blanket With Hoodie
This is one of the best wearable blankets, with pockets, sherpa lining, ultra-fluffy microfiber outer fabric, a quarter-zip pullover design with a hood, and cuffs at the wrists to keep you warm. It comes in 18 varieties, and you can choose between 37- or 53-inch lengths.
Sold by Amazon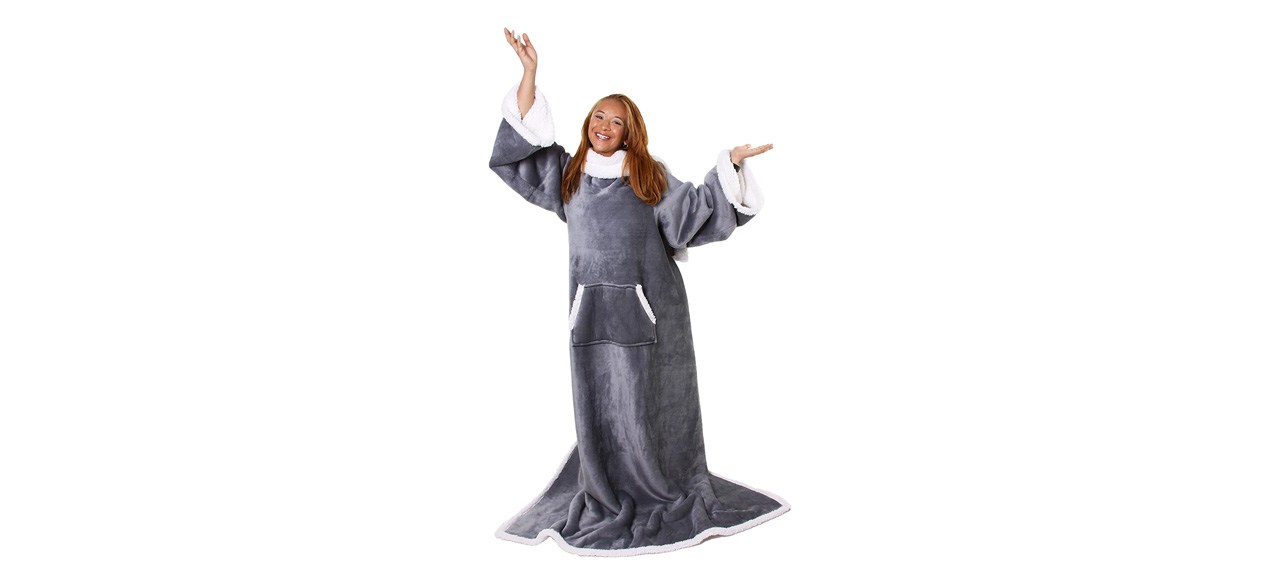 Snuggie Sherpa Wearable Blanket
This wearable blanket boasts long draping sleeves with an open-cuff design, an oversized kangaroo pocket, luxe sherpa lining and an open back. It's 71 inches long, 54 inches wide and comes in 12 varieties.
Sold by Amazon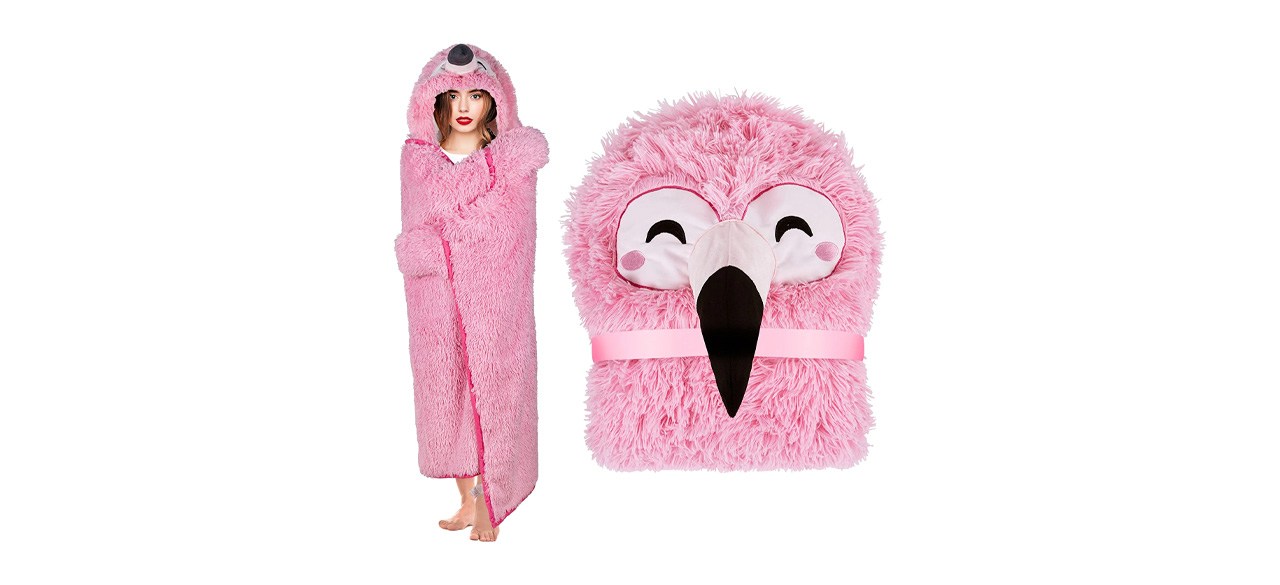 Happy Fuel Sloth Wearable Hooded Blanket for Adults
This fuzzy hooded cloak secures with two snaps at the top and has an adorable sloth design with arm holes and sloth claw gloves. It's shin-length at 52 inches long and 60 inches wide, and it comes in four varieties.
Sold by Amazon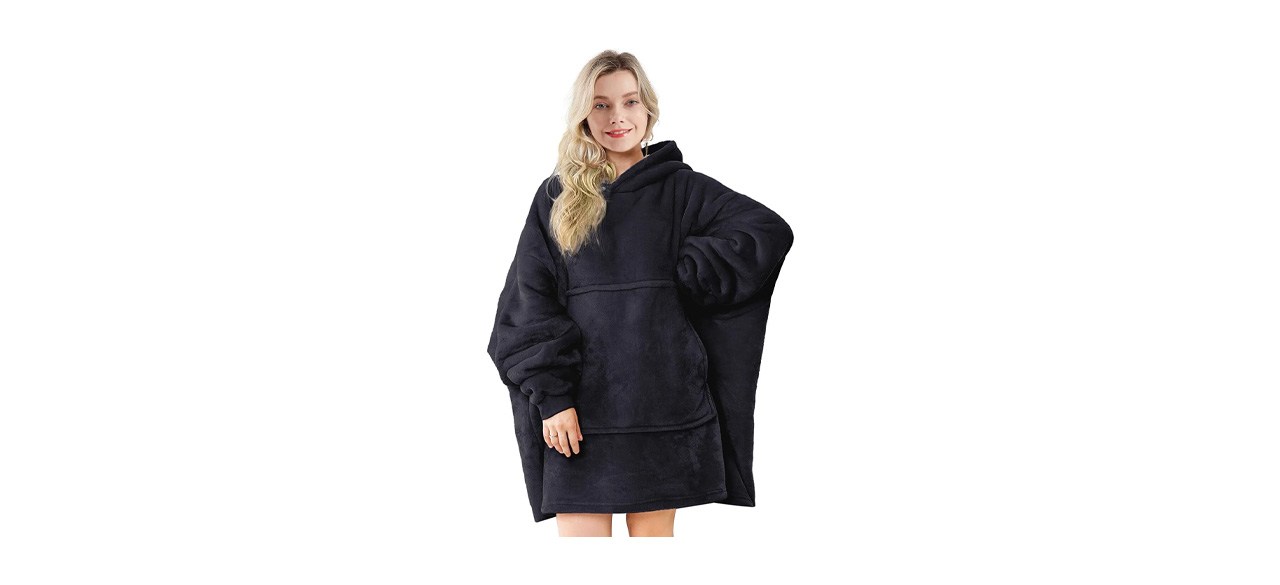 Touchat Wearable Blanket Hoodie
This cozy long-sleeved blanket offers soft sherpa lining, ribbed cuffs at the wrists, an oversized kangaroo pocket and a hood for added warmth. It's a one-size-fits-all pullover design, and it comes in 10 varieties.
Sold by Amazon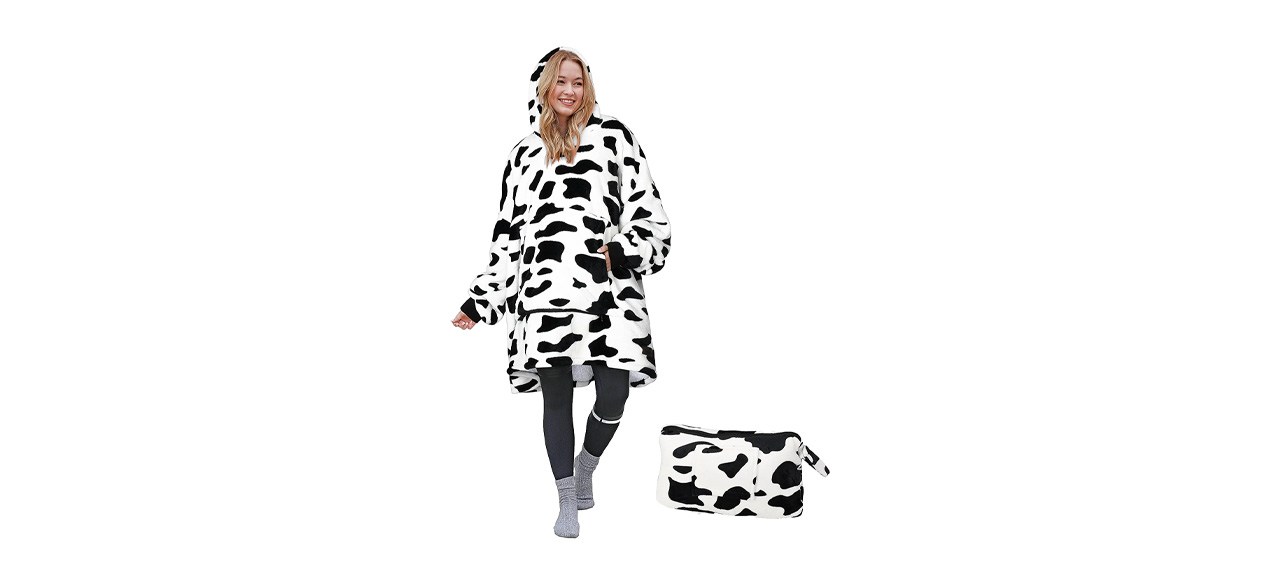 Catalonia Oversized Blanket Hoodie
This hooded sherpa blanket has a pullover design with long sleeves that feature ribbed cuffs to keep the cold air out, and it can fold up into a convenient little zippered bag. It's knee-length, has a large kangaroo pocket and comes in 14 patterns and colors.
Sold by Amazon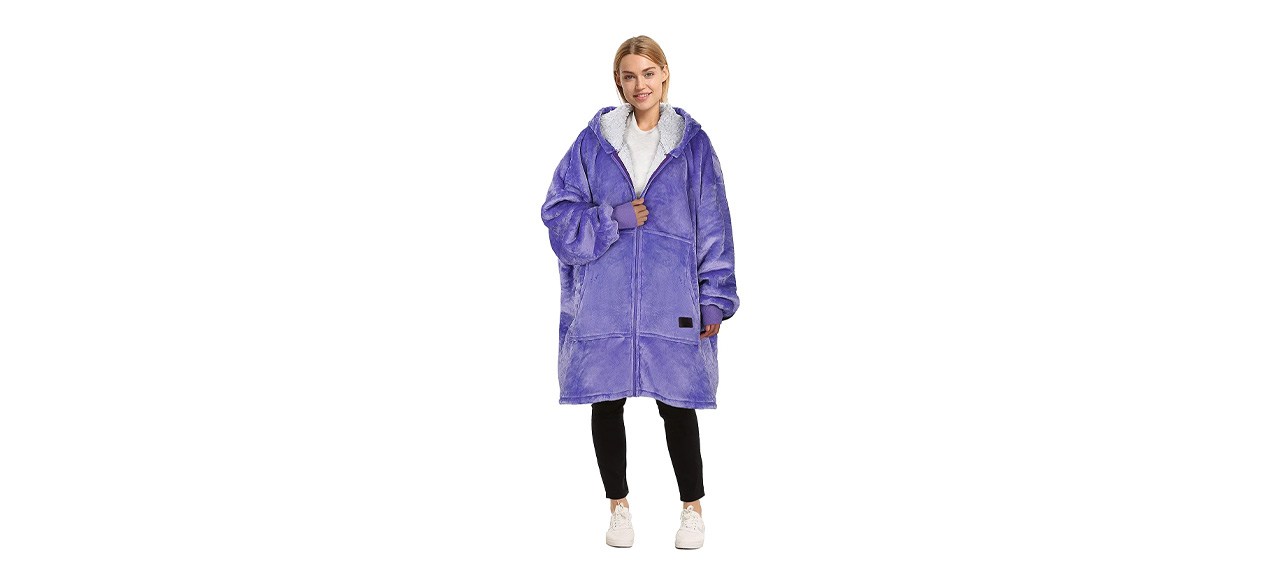 Catalonia Hoodie Style Zip-Up Blanket
This sherpa-lined wearable blanket has a full front zipper design, long sleeves with ribbed cuffs to keep you warm and large front pockets. It's one-size-fits-all, knee-length, has a soft hood and comes in 11 varieties.
Sold by Amazon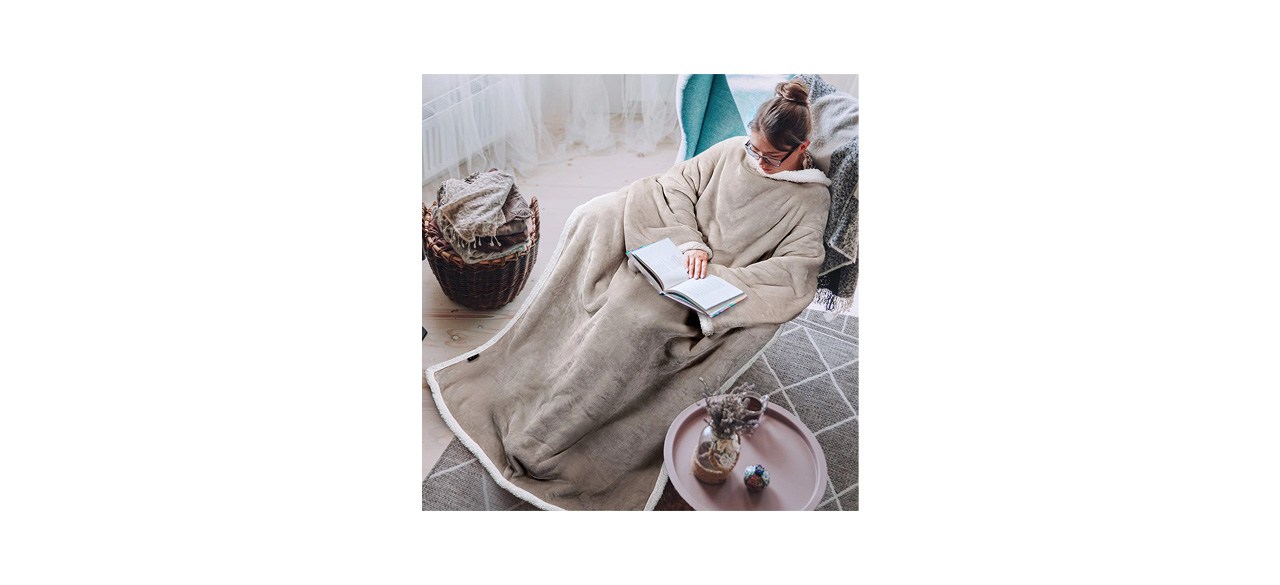 Tirrinia Sherpa Wearable Blanket
This full-length blanket has a soft mock-neck design with long draping sleeves and a convenient front pocket. It's 55 inches wide and 72 inches long, one-size-fits-all and comes in 16 varieties.
Sold by Amazon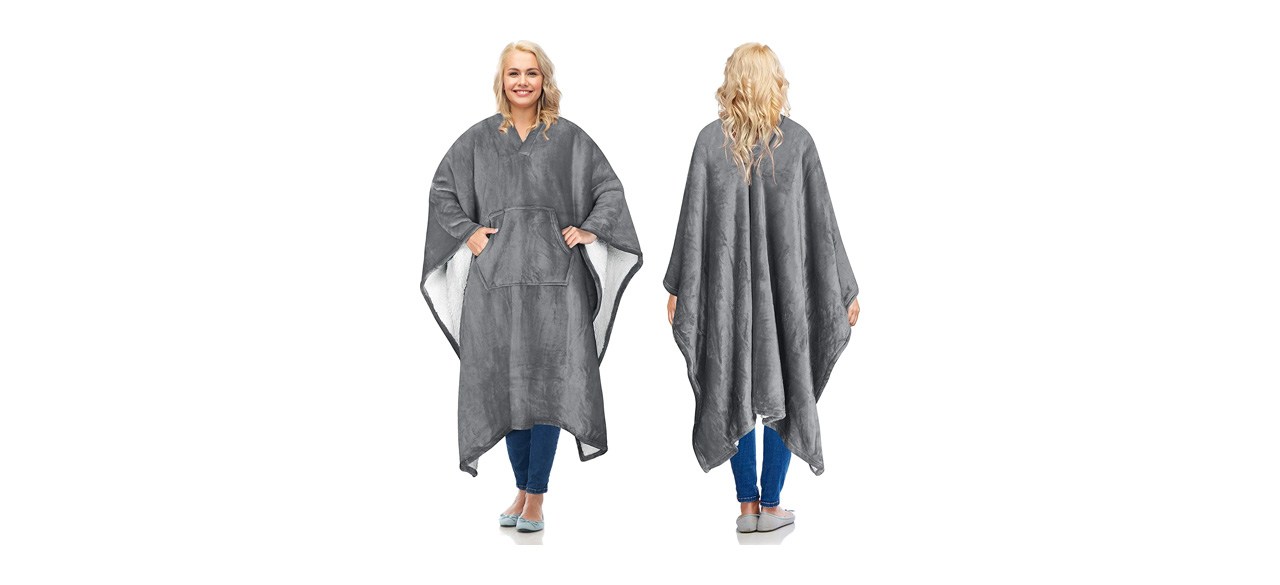 Catalonia Unisex Sherpa Wearable Poncho
Shin-length and one-size-fits-all, this poncho features a large front kangaroo pocket, a soft fleece outer material and a fluffy sherpa lining. It comes in a dozen varieties.
Sold by Amazon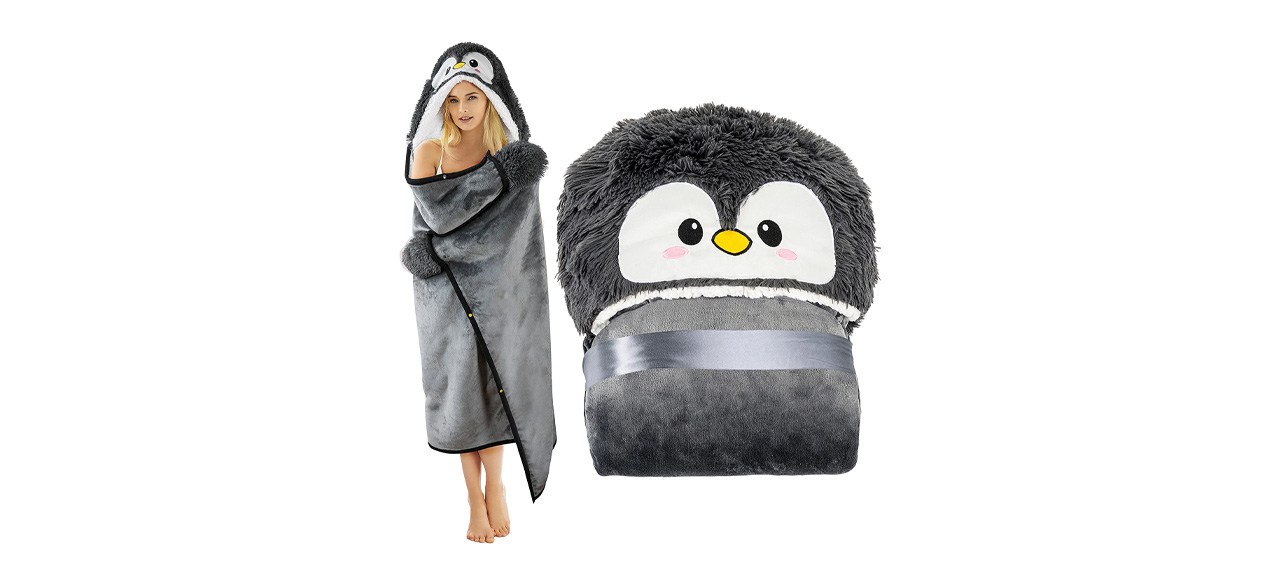 Happy Fuel Penguin Hooded Blanket
This shawl-style blanket has a cute penguin design on the hood with matching flipper gloves, a plush fleece outer fabric and soft sherpa lining.
Sold by Amazon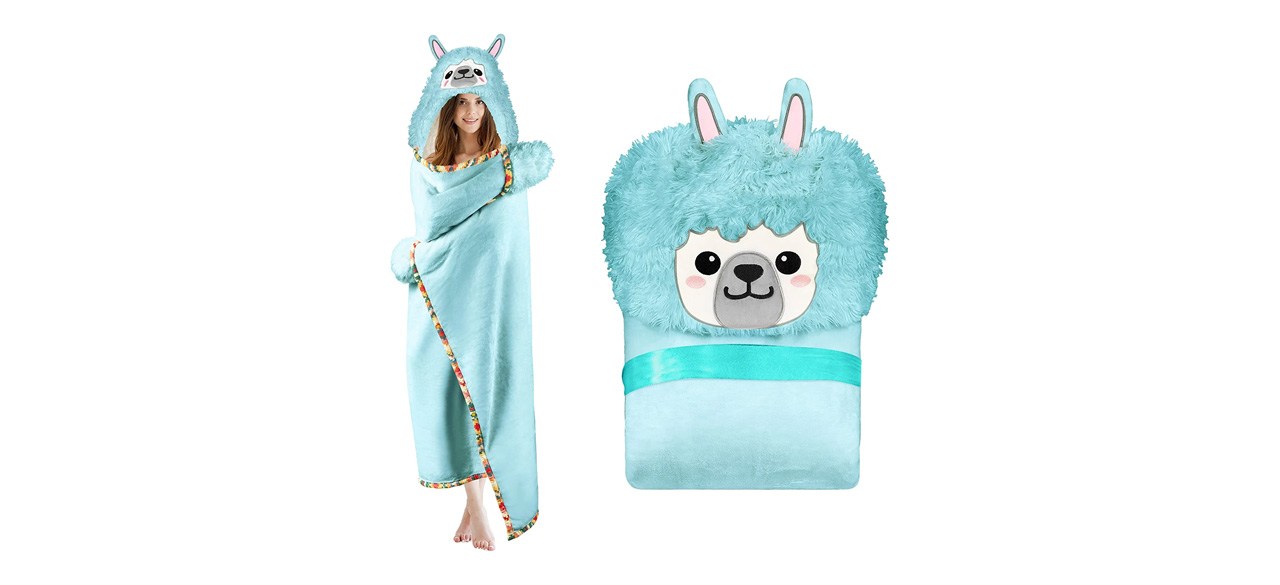 Happy Fuel Llama Wearable Hooded Blanket for Adults
This one-size-fits-all choice features a long cloak style with a cute llama design, attached gloves and a bright color.
Sold by Amazon
Want to shop the best products at the best prices? Check out Daily Deals from BestReviews.
Sign up here to receive the BestReviews weekly newsletter for useful advice on new products and noteworthy deals.
Ella Scott writes for BestReviews. BestReviews has helped millions of consumers simplify their purchasing decisions, saving them time and money.
BestReviews spends thousands of hours researching, analyzing, and testing products to recommend the best picks for most consumers.
Copyright 2023 BestReviews, a Nexstar company. All rights reserved.