This is an archived article and the information in the article may be outdated. Please look at the time stamp on the story to see when it was last updated.
Is the Rinnai tankless water heater or Rheem tankless water heater better?
When you're looking for seemingly unlimited on-demand hot water, a tankless water heater is the way to go. Easy to install and smaller than a water heater with a tank, these workhorses can handle multiple luxuriously hot showers and still run a dishwasher. But when selecting between two top brands — Rinnai and Rheem — which comes out on top?
Rinnai tankless water heaters are expensive but come with reliable performance. Rheem has a better variety of sizes and styles to suit a wider range of needs.
Rinnai tankless water heater
Rinnai has been in business for over 100 years. Its tankless water heaters are known for their innovative designs, high standards in production and solid performance.
Its energy-efficient water heaters come in a high-efficiency tankless water heating series and a super-high-efficiency series. Most carry Energy Star certifications.
Rinnai prides itself on creating products that are trustworthy and long-lasting.
Rinnai tankless water heater pros
Rinnai tankless water heaters are known for features that set them apart from other brands.
Extended warranties: Most Rinnai tankless water heaters come with warranties that exceed the industry standard. Heat exchangers are warranted for 10 to 15 years. A five-year parts warranty and one-year labor warranty are also included.
Recirculating systems: This dedicated line returns hot water back through your heater to increase energy efficiency.
Quality control: Rinnai water heaters are quality-checked during assembly and before they are shipped out. Stress testing is also performed to catch any weak areas.
Wi-Fi connectivity: This lets you remotely control your water heater with voice commands.
Flexible installation: Rinnai offers models suitable for both indoor and outdoor installation.
Environmentally conscious: The design of Rinnai water heaters cuts down on energy and water consumption. Many of its parts are replaceable or recyclable.
Rinnai tankless water heater cons
There are a few downsides to consider. The first is price. Rinnai tankless heaters cost more than other brands.
This brand may also require specialized skills for installation and can cost more in that area, too. And professional installation is required. Doing it yourself may void the warranty.
Some customers report that their Rinnai heater seems to run constantly to maintain the water temperature.
Best Rinnai tankless water heaters
Rinnai RU199iN Indoor Condensing Tankless Hot Water Heater
This model circulates 11 gallons per minute and comes with a 15-year warranty on the heat exchanger. It is connected to Wi-Fi and can support up to seven appliances. It's great for larger households.
Sold by Amazon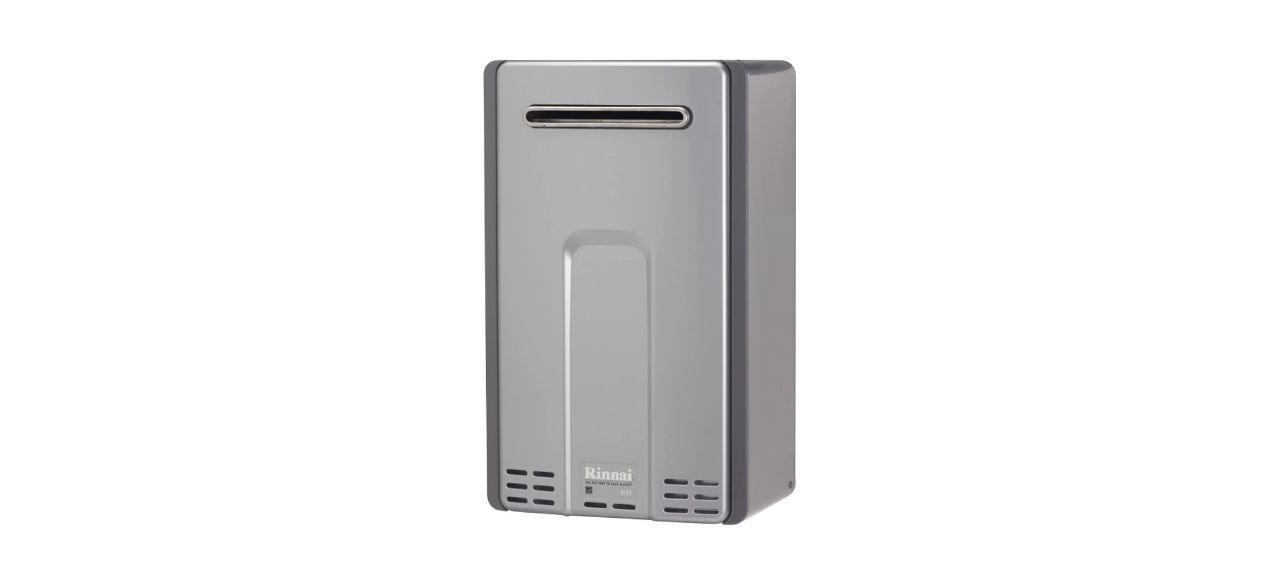 Rinnai RL94EN Outdoor Tankless Hot Water Heater
With a 12-year heat exchanger warranty and included isolation valves, the additional cost of this unit pays for itself. It heats almost 10 gallons of water per minute and can be programmed to have hot water ready instantly.
Sold by Amazon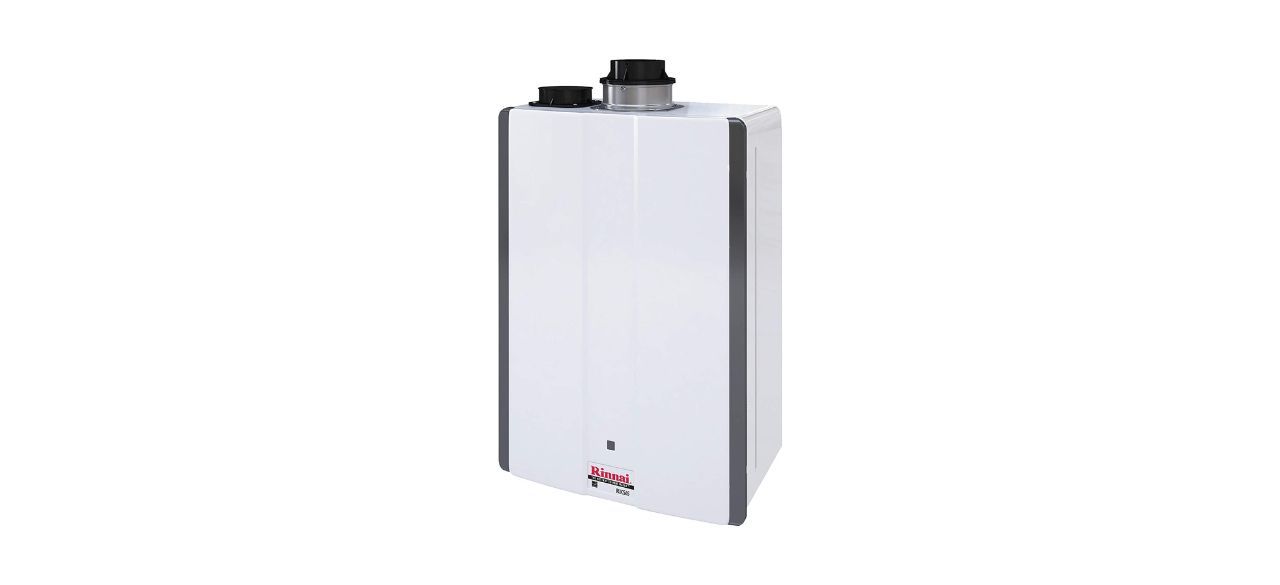 Rinnai RUCS65IP Indoor Tankless Hot Water Heater
Hook this tankless water heater up to propane instead of natural gas for 6.5 gallons of water per minute and hot water on demand. It supports smaller households, is more affordably priced, and does not require a natural gas line for installation.
Sold by Amazon ​
Rheem tankless water heater
Rheem was founded in California in the 1920s. Today, the company makes water heaters that fit every size household and level of use. It offers two lines of heaters.
Performance line: This is best for small to midsized homes. These tankless heaters are available online and through big-box home improvement stores.
Professional line: Large households and commercial uses are best served in the professional line. Purchasing the Professional line through a Rheem-authorized dealer means the price includes installation, but these are also available online.
Rheem's focus is providing affordable, reliable options for households both large and small.
Rheem tankless water heater pros
Rheem offers tankless water heaters that can be powered by natural gas, propane or electricity. Other features include:
Wireless connectivity (or the option to add it).
Low gas emissions.
Energy Star certification.
Recirculation pumps.
These features come at a more affordable price than other brands, and they also have three types to choose from.
Condensing tankless: Available in indoor/outdoor natural gas and propane models with up to 11 gallons of flow per minute
Mid-efficiency: Less expensive and available in indoor/outdoor natural gas and propane models with up to 9.5 gallons of flow per minute
Electric: Easy indoor/outdoor installation with a maximum flow of 8.8 gallons per minute
Rheem tankless water heater cons
Rheem tankless water heaters may not be as durable as other brands. The lower price means that some parts are made of plastic that can break easily with normal use.
Many customers also had issues with Rheem's customer service.
Best Rheem tankless water heaters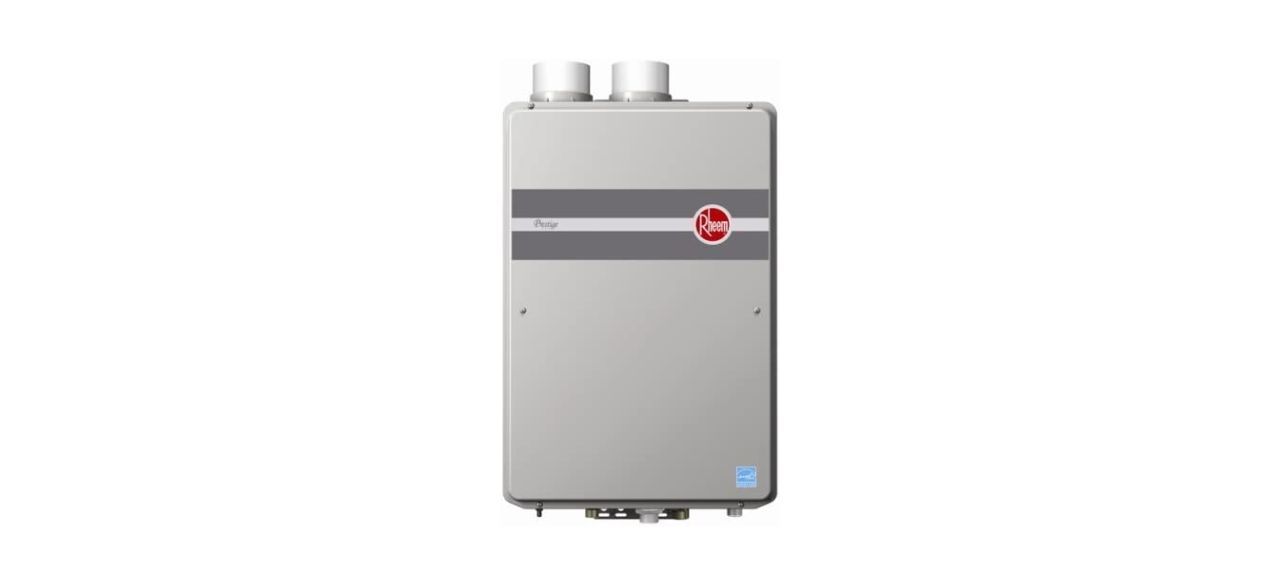 Rheem RTGH-95DVLN Indoor Tankless Water Heater
This delivers 9.5 gallons of water per minute and has the option to connect two units to increase that capacity. It has freeze protection and is easy to install, directly venting clear PVC pipe. It comes with a 12-year warranty on the heat exchanger.
Sold by Wayfair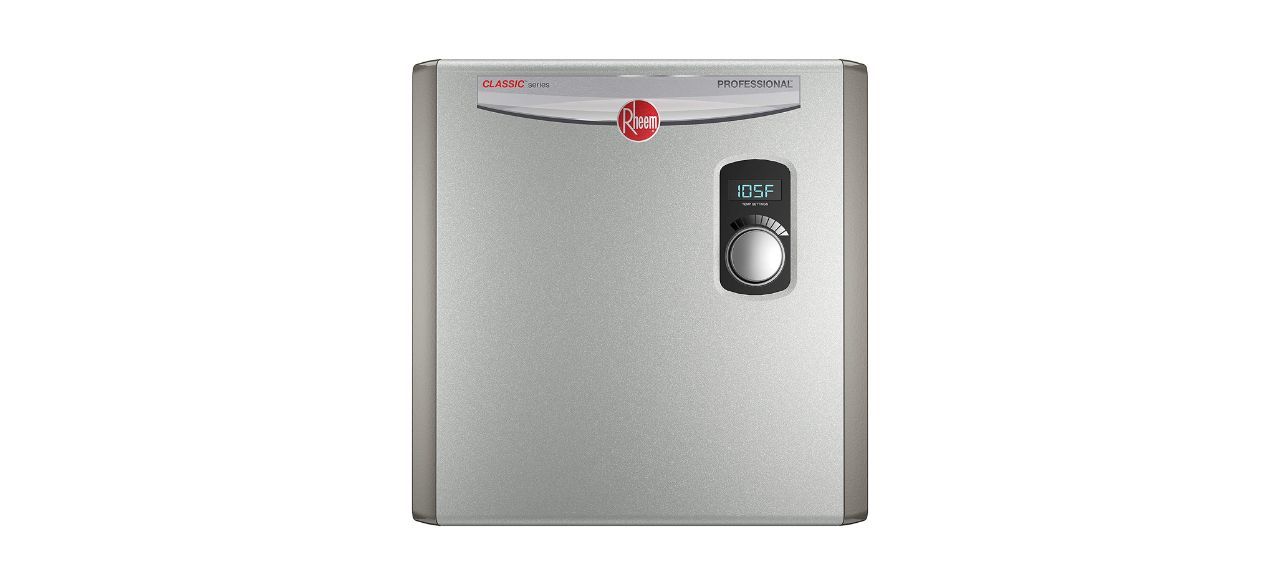 Rheem RTEX-24 24kW 240V Electric Tankless Water Heater
Although not Energy Star-certified, this model converts almost 100% of the electricity it uses into heated water. It uses three copper immersion heating elements to adjust the temperature using as little electricity as possible. It's less expensive to install and works well for running multiple appliances at once.
Sold by Amazon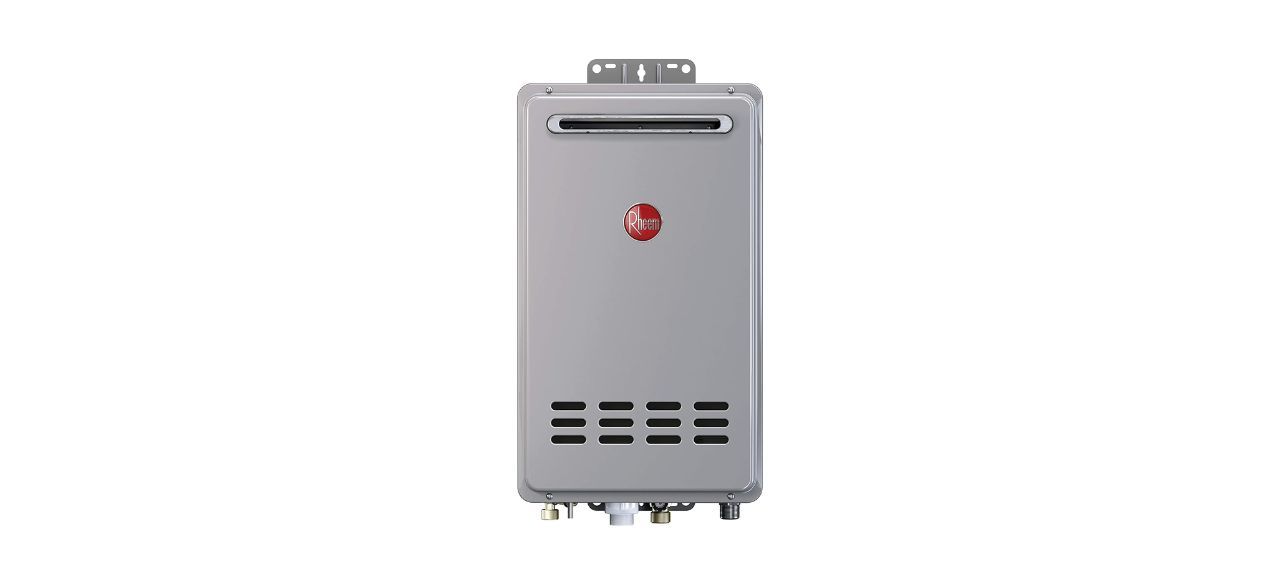 Rheem Mid-Efficiency Outdoor Tankless Water Heater
Use this on-demand natural gas-powered heater in temperatures as cold as minus 30 degrees. It delivers 8.4 gallons of hot water per minute and has a remote electronic thermostat that can be adjusted to temperatures from 85 to 140 degrees.
Sold by Amazon and Home Depot
Should you get a Rinnai tankless water heater or a Rheem tankless water heater?
Although Rinnai has a solid design and top-rated performance, for more options and a more affordable price, a Rheem tankless water heater is the better bet.
Want to shop the best products at the best prices? Check out Daily Deals from BestReviews.
Sign up here to receive the BestReviews weekly newsletter for useful advice on new products and noteworthy deals.
Suzannah Kolbeck writes for BestReviews. BestReviews has helped millions of consumers simplify their purchasing decisions, saving them time and money.
Copyright 2023 BestReviews, a Nexstar company. All rights reserved.