EIN Presswire | Newsmatics
U.N. Conference of Parties (COP 28) & Climate Change Forum Serve to Advance Investment in Sustainable Eco Development
News provided by
EIN Presswire
Nov 21, 2023, 5:15 AM ET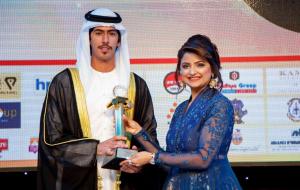 Guest of Honor, Sheikh Tahnoon bin Saeed bin Tahnoon Al Nahyan of Dubai, "Impact investment has been prioritized as the cornerstone of Dubai's development strategy".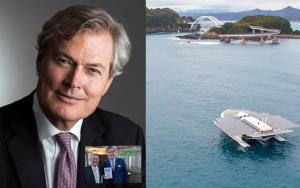 Gunther Pauli, Porrima & Stan Shih Acer Group present at CC- Forum 'Investors' Forum within the regal walls of the Habtoor Palace, Wednesday, December 6. They have spearheaded the creation of a new standard in ship building - the zero-emission seaworthy marine vessel.

Max Studennikoff, tireless environmentalist & H.S.H. Prince Albert II of Monaco. CC-Forum received a Royal greeting by the late HM Queen Elizabeth II
Two Solution Based, Investment Incubators Advance Environmental Recovery, CC-Forum & the U.N.'s COP28 Re-Imagine the Relationship Between Nature & Commerce.
Our energy sources generate unlimited power. A potent mix of solar intelligence, wind, and sea-water hydrogen propels our 100% non-polluting vessels. Not a Jules Verne fantasy - the future is today!"
— Gunther Pauli, Porrima, Inc. Zero Emission sea worthy Vessels.
DUBAI CITY, DUBAI, UNITED ARAB EMERITUS, November 21, 2023 /
EINPresswire.com
/ -- "The 10th edition of the Climate Change Forum returns to Dubai UAE, December 5th - 6th and 7th,2023 with previous iterations from Monaco to Beverly Hills and Dubai in 2021. Unspooling in the historically significant and luxuriously appointed Habtoor Palace LXR Hotel and Resort; the abundant CC-Forum Program is the perfect complement to the coinciding United Nations Conference of Parties (COP 28) between November 30 to December 12. Bringing together 195 Parties to the Convention and an estimated 70,000 delegates the two coinciding Summits are set to host the largest concentration of impact wealth found anywhere," confirms Max Studennikoff, Chairman and Founder of the CC-Forum.
Panelists, participants, delegates and guests will experience, "Rich networking and immersive gala gatherings. The agenda is curated to advance investment and sustainable solutions in the agriculture, technology, health and wellness. energy, water, air, and eco-built -affordable housing sectors," according to Holmes Stoner, CEO of Green Alliance International. Riveting keynotes from the world's most distinguished scientific communities, round table workshops with panels, investor engagements. sustainable fashion-forward receptions and gala dinners round out the festivities.
"Here are abundant opportunities to pitch environmental innovation, legacy and start-up businesses to investors", states Max Studennikoff: "We plan to continue hosting CC-Forum well into the future; as ours is an event with a life-line. We have evolved into an extended family with tri-annual meetups in the world's most desirable destinations. With the support of our valued underwriters and partner's, we raise the bar even higher on environmental activism. Tangible action from the investors' community continues to be forthcoming". Guests include distinguished scientists, high conscious financial behemoths joining thought leaders, family offices, financial institutions and purveyors of private equity.
Among the esteemed attendees is CC-Forum is Guest of Honor, His Highness Sheikh Tahnoon bin Saeed bin Tahnoon Al Nahyan of Dubai: who states, "Our nation, has been spearheading the implementation of the UN's SDG goals. We wish its Dubai edition every success as we are fully aligned with the mission of CC Forum to identify investment-based solutions for the sustainable future of our planet!".
At the zenith of political power of one Africa's most prosperous nations, Chief Bola Ahmed Adekunle Tinubu GCFR has distinguished himself as a 'politician of the people'. As the 16th and current president of Nigeria, President H.E. Bola Tinubu will be honored as the recipient of one of CC Forum's most prestigious awards in recognition of his conceiving and steering the planet's first 'World Ministry of Blue Economy'.
With Ben and Sveta Banerjee at the helm, the Swiss-based firm, Impact Investment Solutions, IIS will be launching the Impact Investment Centre at the CC-Forum with headquarters anchored in Dubai. Quips Ben Banerjee: "We are hopeful that the creation of the global Impact Investment Centre will help address a number of existential issues mankind is facing today".
Launching the production of 100 green ships Gunter Pauli's Porrima, Inc. is the new investment vehicle created by Pauli in partnership with Stan Shih, the founder of the ACER Group that oversees 24 publicly quoted companies. The duo is presenting at the Climate Change 'Investors' Forum within the regal walls of the Habtoor Palace on Wednesday, December 6. The duo spearheads the creation of a new standard in ship building - the zero-emission seaworthy marine vessel. The distinguished author, economist and dare say 'visionary', Pauli is ratcheting up protocols found in ZEV (zero emissions vehicles). Porrima, Inc. has demonstrated proof of concept, with a convergence of design excellence and resilience even in the most inclement weather conditions. In partnership with CC-Forum, the expectation is to commence producing the 'Green' fleet within a short time at the conclusion of CC-Forum- Dubai Edition.
Farzam Kamalabadi, Founder of Future Trans Group & Owner-Operator of Future Trends (
www.future-trends.us
) is a Global System Focusing on Corporate Exponential Growth & Rapid Acceleration. Says 'Global Influencer' Farzam Kamalabadi, "A historical announcement is to be made by Future Trends pertaining to Malawi and its role as an emerging nation and as a model of the 'Surprise Rise of African Initiatives'. The CC-Forum helps set the world stage for the destiny of humanity in the grasp of our collective hands. The time is now, if there is to be a forever".
In the sage words of Roz Savage English ocean rower, environmental advocate and writer, "It cannot be right to manufacture billions of objects that are used for a matter of minutes, and then are with us in landfills for centuries". Leading the way are Alex Mond and Karen Monde of TerraMer, BioPlastic Technologies. They confirm: "Plastic pollution is a crisis that threatens the health of the planet and all its inhabitants". This non-biodegrable dirge has infiltrated every corner and crevice of the environment, from the ocean depth to mountain peaks. Terramer will share their leading-edge Bioplastic specialization that includes the innovative manufacture of renewable hemp-based Bioplastic. "We are strategically positioned to revolutionize and diminish the plastic industry with a vertically integrated and environmentally responsive mode, " states the Terramer team.
DevvStream's take on carbon credit has avoided the chicanery that has permeated the Carbon Credit space of late. Their foundation is anchored in maintaining scrupulous integrity and organic technology-based solutions. DevvStream's unique approach—industry-proven and guided by the Core Carbon Principles- provide a clear and straightforward path for governments and corporations to meet net-zero goals. On their powerful agenda DevvStream plans to take audiences on an easily comprehensible dive in the complexities of Carbon Credit renewal.
The Event is set to culminate with an auction and fundraiser of highly praised collectables and a film retrospective produced in part by Philip deClare Productions and VIPictures. The black-tie Gala Dinner & Awards Giving Ceremony culminates with the Metropolitan Orchestra Middle East performance throughout the Gala featuring a selection of both Arabic and European music. The 15-year-old violin prodigy Richard Kollert accompanied by his father Jiri Kollert will be in Dubai, on a return engagement from previous CC Forum's. Richard made his international debut under the baton of the legendary Maestro Placido Domingo.
Cristiane Roget
Vector International Pictures
+1 310-220-9118
email us here
Visit us on social media:
Facebook
Instagram
YouTube
Other
The CC-Forum Mission and Ethos with Max Studinnikoff Narrating
NOTE: This content is not written by or endorsed by "KLST/KSAN", its advertisers, or Nexstar Media Inc.
For inquiries or corrections to Press Releases, please reach out to EIN Presswire.